Govt to take call on increasing sugar export quota next month after assessing demand-supply: Food Secy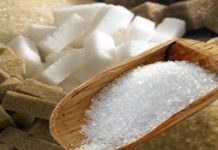 New Delhi,  The government will take a decision next month on increasing the sugar export quota from current 60 lakh tonnes after assessing the domestic production and internal demand, Food Secretary Sanjeev Chopra said on Thursday.
The food ministry has allowed 60 lakh tonnes of sugar exports for the current 2022-23 marketing year (October-September). India exported around 110 lakh tonnes of sugar — an all-time high — in the previous year.
In the current marketing year so far, the mills have dispatched 30 lakh tonnes of sugar for exports and out of that 18 lakh tonnes have already been shipped. The food ministry said the entire 60 lakh tonnes will get exported by May.PTI